Karen Phillipd Curan: Riverstone Gallery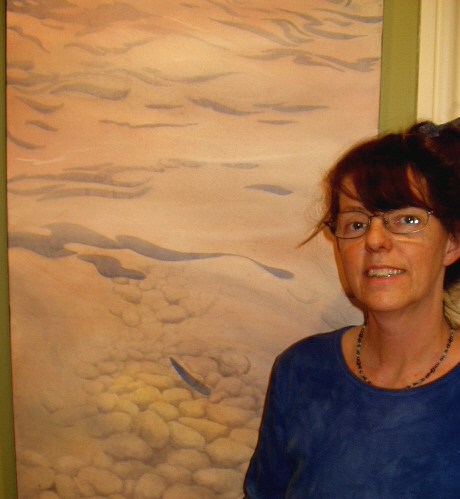 The Riverstones Gallery is located in 'downtown' Burnstown, a busy little artistic community just outside Ottawa, Ontario, Canada. Burnstown is embraced by the Madawaska River and is an historic crossroads of the bygone logging industry. The gallery is housed in the home of the old General Store.
Many small shops and services enliven Burnstown. You can see them in the gallery.
The Riverstones Gallery is the studio and showcase for the wide variety of work by Karen Phillips Curran. Karen is a lifelong artist. To draw and paint has always been her passion. Her contemplative river stone images look deeply into water and explore the play of sunlight on worn smooth, water covered rocks. Millennia are expressed by movement and reflection.
"My watercolours are about time, and that magic moment when something ordinary makes you catch your breath, if you take the time to pause, to look. I tell the story of what is often passed by. Light is discovered by way of shadow. Decay is made beautiful by way of being noticed. Texture is featured alongside dancing shadows. Emotions are moved to be calmed."
"My Polaroid Image and Emulsion transfers are versatile and very expressive. I use them extensively to illustrate ideas of elusive, but evocative scenarios. I love the intricate, vivid, malleable imagery this medium can produce. I treat them as mixed media pieces by combining them extensively with watercolour and coloured pencil."
Pagan goddesses populate her iconic, gilded acrylic canvasses. They tempt us to look at their myths in new ways.
Karen has been Canada's National Arts Centre scenic painter since 1996. She paints the sets designed by some of Canada's top set designers. The large scale, and the challenges associated with painting these sets, has imbedded a sense of the monumental in her work. Perfectionism is eschewed for readability and impact.
Come explore her world of sun-drenched architectural watercolours, images of stone and water, iconic goddess paintings and alternative photography at the Riverstones Gallery.