ArtFloor.ca > ArtFloor Publicity
By: Daniel Drolet. © The Ottawa Citizen
Widely available as published via The Ottawa Citizen, and alternately, as displayed below.
Go ahead and step on these masterpieces!
They're covered in resin and tougher than most
hardwood floors — better looking, too!
"Almonte-area Jesse Lance creates large framed paintings that you can walk on."
Who says art has to hang on walls?
Jesse Lance thinks it can be underfoot.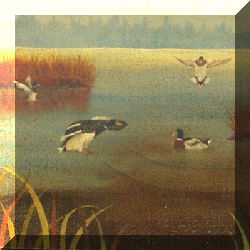 That's the thinking behind ArtFloor.ca, a company that works with artists to create works of art that function as the decorating equivalent of area rugs. Take a large painting, frame it, cover it with enough protective coats of resin so that it holds up to furniture, dogs, kids and shoes — and you have art for the floor.
Lance is a conceptual designer with a background in marketing, but he's been installing and finishing wide-plank red pine flooring since launching A. Marreed & D. Prestman Distressed Pine Flooring Inc. seven years ago.
ArtFloor.ca is an offshoot of his pine flooring business and an approach to a different segment of the market.
Distressed pine flooring has a distinctive country appeal, while his art floors can fit into a wide range of styles — depending on the artwork. That's why he commissions artists with distinctive painting styles.
There is one floor with a wetlands scene, complete with bulrushes, trees, water and ducks, in a style reminiscent of a traditional hooked rug. The floor would fit neatly into a country decor.
Other ArtFloors are colourful abstracts and would fit into an urban home, condominium or executive office.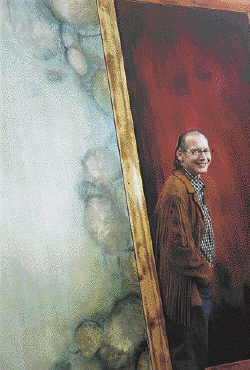 Note: Digital Imaging may not represent actual colour.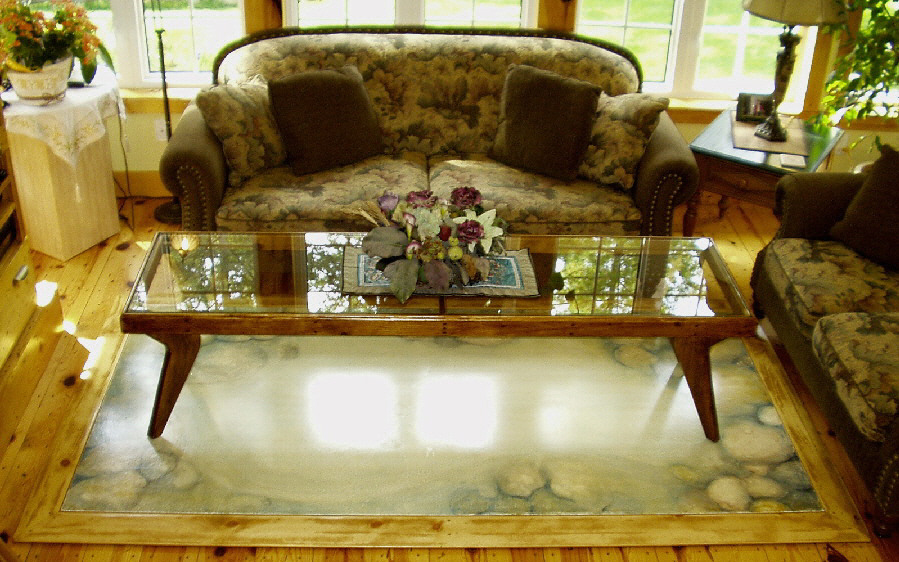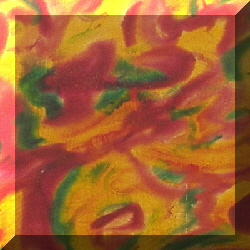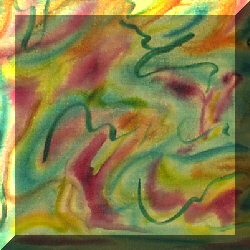 Catherine Gutsche is one of the abstract artists working with Lance, discovered when he saw her work on the Red Trillium Studio Tour. "He explained the project to her and it sounded exciting, especially the size of the canvases," says Gutsche.
"It gave me the opportunity to work on larger pieces than I have ever worked on before."
The mixed-media artist explains there are restrictions when doing floor art. Texture and rough or uneven surfaces are somewhat restricted, for example, because the painted surface has got to be covered with resin.
Gutsche likes her acrylics upbeat. "I think they are quite cool. They would really make quite a splash in a modern condo."
Country or urban, ArtFloor is particularly appropriate for open-concept living spaces.
"We live in a Wall-Less Society, with new conditions based on the fact that there's no place to hang box-style visual art."

Another advantage is the versatility of ArtFloor. If you change houses, you might find the sparse wallspace won't accommodate your art. But chances are pretty high there will always be room for your art under your coffee table (as intended).

The rock-solid panels are also easy to transport, so they can go to the cottage for summer living, he suggests. Right now, Lance is sticking to one size — three by 1.5 metres (5' X 9'). He chose the size for a reason: "It fits into most standard service elevators and it fits beautifully within a wide spectrum of seating areas".
The artwork is done on canvas, but it's given special treatment. First the canvas is laminated onto a piece of solid board and given two coats of gesso, a primer that dries hard. Then Lance delivers the canvas to the artist, who does the creative stuff.
"They do paintings as if they were going to hang on a wall, and when I get it back, I put it through a proprietary transformation process — The Canadiana Transformation Processes— and that process can go anywhere from glazes to tints to artistic 'sandings'." Lance then flood-coats the artwork with seven coats of 'diamond-tough' resin and seals the backside (against humidity). The resin makes it "four times tougher than the average hardwood floor."
He operates out of his home near Almonte and via his website, www.ArtFloor.ca. His ArtFloors start at around $1,000.
Daniel Drolet is an Ottawa-based writer.
Edited to include minor updates. ED: Jesse Lance

By: Christopher Guly. © Copyright 2008 Metroland Media Group Ltd.
Widely available as published via foreveryoungnews.com, and alternately, as displayed below.
Seven years ago, at age 53, former sales and communications consultant Jesse Lance left the pencil-pushing world behind him and launched himself into a business that was more satisfying to his soul.
Lance spun his passion for wood into a business called A. Marreed & D. Prestman Distressed Pine Flooring Inc. (the "a married and depressed man" names are a whimsical reference to the woes of domestic life). His one-man operation (pineflooring.ca) specializes in installing handcrafted wide red-pine planks, which can withstand the scuffs and scratches from kids and dogs better than typical hardwood.
Now, the 60-year-old resident of rural Ottawa has taken the idea up a creative notch with a new initiative that combines art with decor, and takes it down to the floor.
Trademarked as Canadiana ArtFloor (artfloor.ca), Lance's proprietary process isn't about taking existing artwork off walls. Currently working with six Ontario artists, he has created what function as "art rugs" but show as visually stunning modern works set onto a 1.5-metre-by-3-metre standard-sized solid board.
Lance's system goes something like this. He gives a visual artist the solid wood panel covered with 16-ounce duck canvas used on canoes and two coats of gesso, a hard and fast-drying primer, which creates a sturdy surface for the brush strokes of paint. Once the finished painting is returned to him, Lance adds his craftsman's signature to it. He applies seven coats of aluminum oxide resin to it, which is "four times harder" than what's used on hardwood floors - and happens to be waterproof too. The "transformation" can also include sanding, to remove any blemishes, and glazing and tinting to tone down any loud colours, give the piece an "antique" feel and make it look "more like a da Vinci painting," says Lance. When attached to a solid-wood backer-board and frame, the ArtFloor is "virtually indestructible."
Sure you can walk on it. But it's more something to gaze upon and serve as a conversation piece wherever it's situated.
"When people come into a room and see this on the floor, they can't help but say something about it," says Lance.
ArtFloor can be inlaid within an existing or new floor. However, its intended purpose is to be placed onto an existing floor, ideally under a glass-top coffee table. Since it's portable and at 135 pounds (61 kilograms) relatively easy to move, the ArtFloor can follow you wherever you go - whether it's to the cottage in the summer or, for a change in scenery, between two client chairs in front of a desk at the office.
"You also don't have to worry about whether it will fit on a wall," explains Lance.
To date, he has created a collection of 15 unique ArtFloors, which include colour-burst abstracts and outdoor scenes, and range in price from $1,000, for his own faux-painted creations, to $ 3,000 for some of the works by the artists in his new collective.
He's also designed three Canadiana ArtTables for ceremonial, meeting or dining purposes ranging in price from $3,000, which follow the same technique and essentially gives the ArtFloor legs in the form of a table.
With his ArtFloor, Lance is targeting condo dwellers restricted by the limited amount of wall space for art, and by the presence of concrete floors and noise regulations that rule out the installation of hardwood floors. In particular, he hopes that empty nesters will consider his art-decor creations to jazz up their homes.
But if price is a barrier, Lance has a solution. He offers a RICH ™ (Residential, Institutional, Corporate, Hospitality) Lease Program, starting at $90 a month, which is tax deductible if you run a business, home-based or otherwise. If you lease to purchase, you can deduct the capital cost and depreciation as office furnishings as well.
Christopher Guly is an Ottawa-based writer.
Edited to include minor updates. ED: Jesse Lance
Next u Canadiana ArtFloor: Art Accommodation