The Inspirational and Aspirational Design Element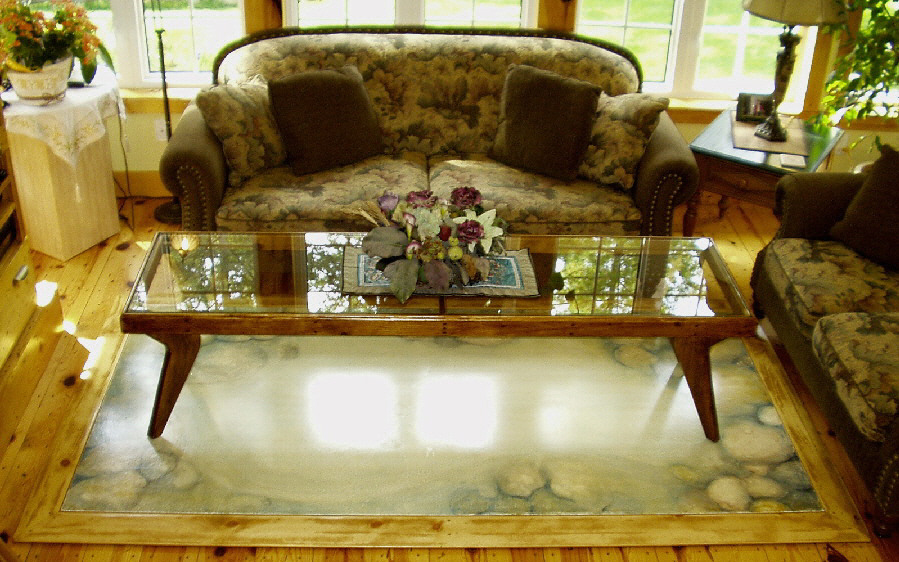 Canadiana ArtFloor was designed and constructed to revolutionize conventional thinking by offering an inspired alternative ... one that "fits right in" ... as an Art and Interior Design (A&D) Solution. It is the quintessential interior design and architectural element — a single rock-solid panel with tapered frame — that functions, in the simplest of terms, as a 'wooden area rug' but, more correctly, as a new platform for large-format Visual Art and, critically, as a fashion statement to define space and place and foster The Quality-of-Life Experience.
The WOW Factor ...
Open House Staging & Condominium Staging
The Canadiana ArtFloor Collection — a select piece of your choice — is available for a nominal fee on our Daily/Weekend Rental Basis for high-visibility Open House Staging, Open Condo Staging, Real-Estate Preview Events, Interior Design Shows, Furniture Shows and Corporate Events and the like.
The Canadiana ArtFloor Collection — a select piece of your choice — is available for a nominal fee for high-impact Private and Corporate Events in the Ottawa, Ontario area ... The National Capital Region.
Signature ArtFloor
A custom-made Signature ArtFloor elevates an Interior Designer, Interior Decorator, Staging Professional, CSP Member, Builder, Real-Estate Agent and/or Real-Estate Investor to a higher level of individuality and professionalism ... invest in your very own Signature ArtFloor (with or without logo) to "set the mood of conviviality" at your Open House, Trade and Consumer Shows and Corporate Events. A Signature Artfloor would be awesome (on the floor) in front of your reception desk ... thrill your potential customers! ... choose your 'corporate' mood, size, style and colour preferences. 100% Satisfaction, or you don't pay.
ArtFloor is surprisingly affordable ... Lease from 50./mo, lease to purchase from $ 65.00/mo. or purchase from $ 1,000. ($CDN)
X-Link: Lease/Lease-to-Own
Personable Statement
Canadiana ArtFloor is Functional Art, Practical Furniture and a Quality-of-Life Statement and, critically,
ArtFloor performs as Influential Art should perform — as a conversation piece — "to break the ice" and "to bond guests"
... within fashionable Residential, Institutional, Corporate and Hospitality (R.I.C.H.™) Markets.